Growing and harvesting Red Winter Wheat:
We grow approximately eight acres of Hard Red Winter Wheat. The wheat seed is planted in mid-September, sprouts, and grows three or four inches before winter snows cover it up. In the spring it grows rapidly forming the grain heads in June. By late July the sea of green has turned a golden yellow and the harvest draws near.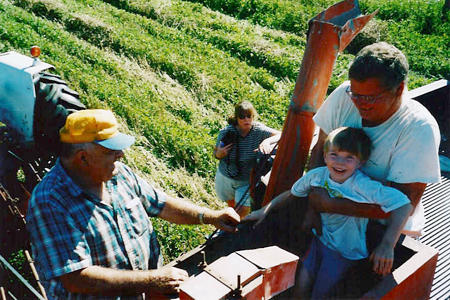 We use an Allis Chalmers Model 60 combine for harvesting the wheat. Our wheat is truly all natural. We plant a cover crop of red clover with the wheat. This naturally reduces the amount of weeds that can enter the field, and is also plowed into the soil where it becomes a green manure fertilizer. We use absolutely no insecticides on our fields.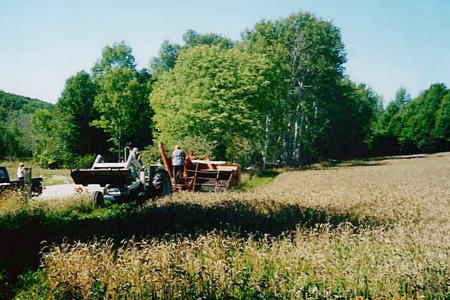 We sell plenty of wheat berries at the farmers market. They can be purchased whole and used as a breakfast cereal. If sprouted the are used in salads, or pressed and made into wheat juice.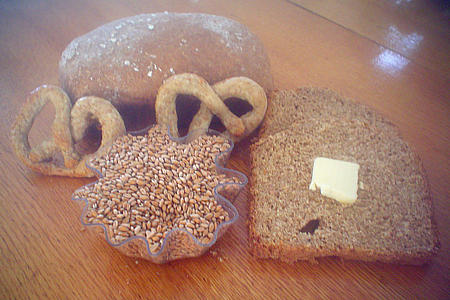 At the East Jordan Farmer's Market we will be offering our customers a chance to hand grind our wheat into whole wheat baking flour this year. When ground into flour it will still contain 100% of the wheat germ, bran and gluten. Most commercial "whole wheat flour is a white flour to which a portion of the bran which was removed is re-added. The wheat germ is totally removed. Factory bread makers use this "whole wheat" which is usually 40% white flour. Commercial flour is also chlorine rinsed, potassium bromide aged and either benzoic peroxide, chorine dioxide or ammonium chloride bleached.